TRIALS
We have the pleasure of inviting you for the event "Test before you buy", organized by our development department . This event allows you to make technological trials on process equipment of the company Urliński, free of any charges.
As the only company in Poland, we have prepared a special laboratory room with mixers and the whole equipment for tests. Our experienced technologists are for your disposal for an assistance.
You will have a chance to acquaint yourself with modern solutions applied in our homogenizing mixers as a result of 30 years of experience.
We give you the possibility to see homogenizing devices of the top class and the newest generation. The design solutions implemented to our process machinery are in accordance with modern technology required for pharmaceutical and cosmetic manufacturing and comply with GMP and GAMP standards. They allow for scale-up procedure according to FDA rules.
We offer much very high quality mixers, comparable only to word leaders in a competitive price.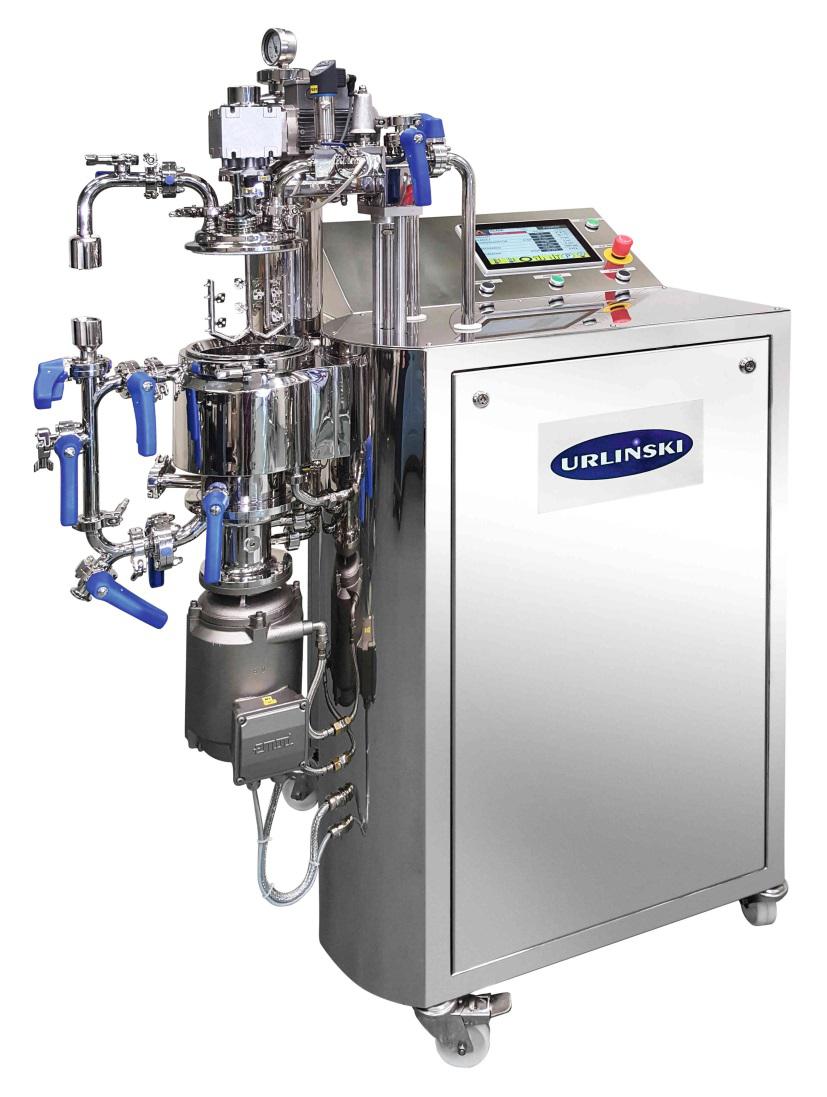 We would like to introduce you to
MZUTL 2 – our newest laboratory homogenizing mixer with work capacity from 0,5 to 2 liters, constructed and created especially for technologists.
New formula implementing was never as easy and cheap as today. All design parameters of this mixer are transferred from industrial to laboratory scale according to
scale-up procedure.
We are at your disposal, please get in touch with our development department to agree a convenient time of your arrival as well as a choice of a device you would like to make a trial on. We have three mixers with work capacities 2, 15 and 50 liters.
"MANY HAVE TRUSTED US – BE ONE OF THEM"
Our laboratory homogenizing mixers are very well equipped to test technological processes in a wide range:
infinitely variable adjustment of anchor stirrer rotations to 2,5 m/s, equipped with directing blades (baffles) and two-ways acting scrapers
infinitely variable adjustment of homogenizer rotations to 30 m/s
lid with lifting system
infinitely variable adjustment of product temperature to +100°C and jacket temperature to +120°C
– max/min temperature of product and jacket setting
– setting of temperature delta for product /jacket
– cooling/heating speed rate adjustment
– product/jacket temperature hysteresis
vessel pressure value control including autonomous vacuum pump with hysteresis function
optional path of valves for process components into vessel introduction
– over homogenizer
– into short by-pass under the product surface
– under the product surface through the lid
– small amounts of components dosing via nozzle on the vessel lid
login/access to control and administration, system parameters calibration together with process data recording with GMP directives GAMP Annex 11
monitoring of work parameters and diagnose of the system online via Ethernet
heated by-pass enabling to process wax based product
bottom shut-off valve separating homogenizer enables to execute the process only with the anchor stirrer